Pads by themselves - $275
or
Save with a pad and glove combo - $385

Includes simple custom graphics

Add a name and/or number for $15 each item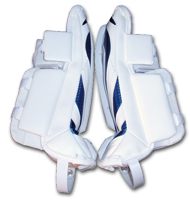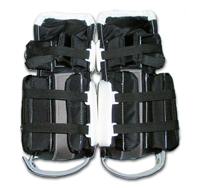 A PAW exclusive!
Custom made miniature goalie pads
- A replica of a real set of goalie pads, only 14" tall!
- Built just like the real thing using the same materials
- Realistic knee wing, knee stacks, knee lock with elastic and velcro, calf wings and wraps
- Easy snap closure straps
- Each set is handmade by me, the artist
- Tiny toe bridges and hand sewn bindings complete the look

These are great for autographs and photographs with your children!

(Please note these are not for actually playing hockey, they are a novelty item)
To order we need the following information:

1. Nylon color - Any standard color
2. Strap color - Black or White
3. Nash or Ultimadry color - Tan or grey
4. Jenpro/robocop color - Any standard color
Custom made miniature goalie catch gloves and blockers to match the minipads
- Miniature replicas of a modern goalie glove and blocker
- Built using the same materials as pro goalie gloves
- Each one is handmade by me, the artist
- Realistic feel, the glove closes just like a full size glove
- Made so that you can fit your fingertips into the gloves

These are great for autographs, baby rooms, and photographs with your children!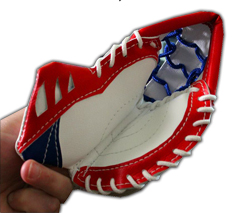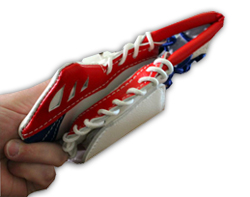 These are a display item only! They are not made for real ice hockey play!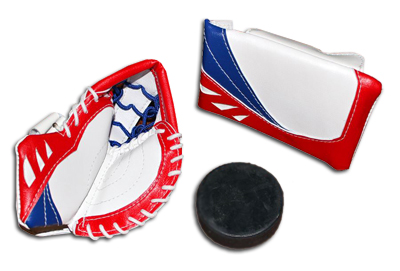 Glove only - $100
Blocker only - $80
Save with a glove and blocker combo - $165

To order we need the following information:

1. Nylon color - Any standard color
2. Lace color - Any standard color
3. Nash or Ultimadry color - Tan or grey
4. Jenpro/robocop color - Any standard color

Name and number customization is $10 extra per glove



Shown here with a mini stick and full size puck