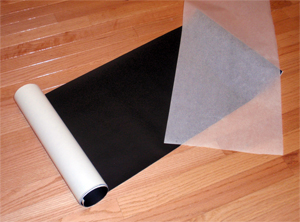 Padskinz

Mini Skinz - $19.99
1 sheet 13" x 7.5"

Small Skinz - $39.99
1 sheet 27" x 15"

Big Skinz - $59.99
1 sheet 54 " x 15"

All padskinz come with tracing paper and instructions for application and removal
---
Gripskinz and Palmskinz:

Mini - $19.99
1 Sheet 9" x 7.5"

Small - $39.99
1 Sheet 13.5" x 15"
Big - $59.99
1 Sheet 27" x 15"

Gripskinz and Palmskinz come with instructions on how to install them
---
Prices do not include shipping. Shipping is additional, please email or call us with your zip code.



The peel and stick backing
Applying the padskinz is easy!
Trace your design onto the tracing paper, then transfer it to the skinz, cut it out, and carefully work from one end of the skinz to the other!
Pad Skinz

We now carry Padskinz from Chameleon Sports!
More information about the product can been seen at this website:
www.padskinz.ca/
If you want a quick way of adding color to your pads without sewing this is for you!
It is similar to jenpro in texture and durability but thinner and has a sticky backing on it.
It is removable later on if you wish change colors again.


Available in the following colors:

Currently in stock

Red

Burnt Orange

Navy blue

Sport Gold Weave

Royal Blue

Silver Weave

Light Royal Blue

Royal Blue Weave

Baby Blue

Kelly Green Weave

Silver

Black Weave

Canary Yellow

Red Weave

Black

Orange Weave

White

White Weave

Teal

Neon Green Weave

Pink

Neon Green

Purple

Sport Gold

Orange

Kelly Green

Light Green (Minnesota Wild)

Snow White
(blue tinted white)

Palm Skinz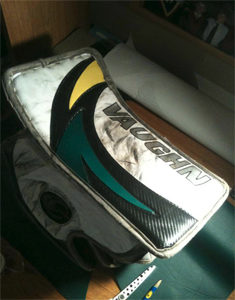 Green and yellow pad skinz applied by a customer


Please note that colors may not be an exact match to a specific shade of jenpro that is used in your pads.
The colors are the closest match available.